"As a professional speaker and corporate trainer who teaches 6-hour workshops, I learned that using stories is a very useful tool in order to sell ideas, products and services.
Originally, I thought I was actually doing that really well, meaning telling stories, until I had an opportunity to see Pres Vasilev in action. What I learned in his workshop was that I had to pull up my notes, take a couple of pointers and incorporate them into my workshops so I could do much better with selling ideas, products and services.
Let me tell you something – Pres has a system! Since I've been using it for about a year, it has been very useful to me. He can teach you the same system as well if you reach out to him.
If you are looking to improve your ability to use stories in order to sell an idea, a product or a service, ask Pres to help you out because you will find that your selling will improve when you incorporate stories based on his system."
Cassandra Lee, Professional Speaker and Trainer
Successful Selling with Storytelling™
Connect Better, Convert Faster, and Close More Sales

Hectic pace. Low trust. High competition. If your sales reps are struggling today, you are not alone. Around the world frustrated sales leaders are wondering, "Can we engage our busy prospects better? Can we boost our sales faster?"
Pres Vasilev says, "Yes! New breakthroughs in neuroscience confirm what top salespeople have always known – storytelling is the ultimate sales skill. More than ever, the secret to success in the sales trenches today is the strategic use of well-timed, well-told stories."

Pres Vasilev's Successful Selling with Storytelling™ is a professional sales training program designed to smoothly integrate strategic storytelling skills into your sales process. As a leader who cares about the success of your team, you will discover that these proven strategies help your reps connect better, convert faster, and close more sales.
You may ask, "What if I train my sales reps and they leave?" A valid concern. Now, what if you don't train them and they stay? In the uncertain times ahead, there is something certain – your team will win only if they have the winning skills. And the time to equip them with the winning skills is now. Call Pres Vasilev today!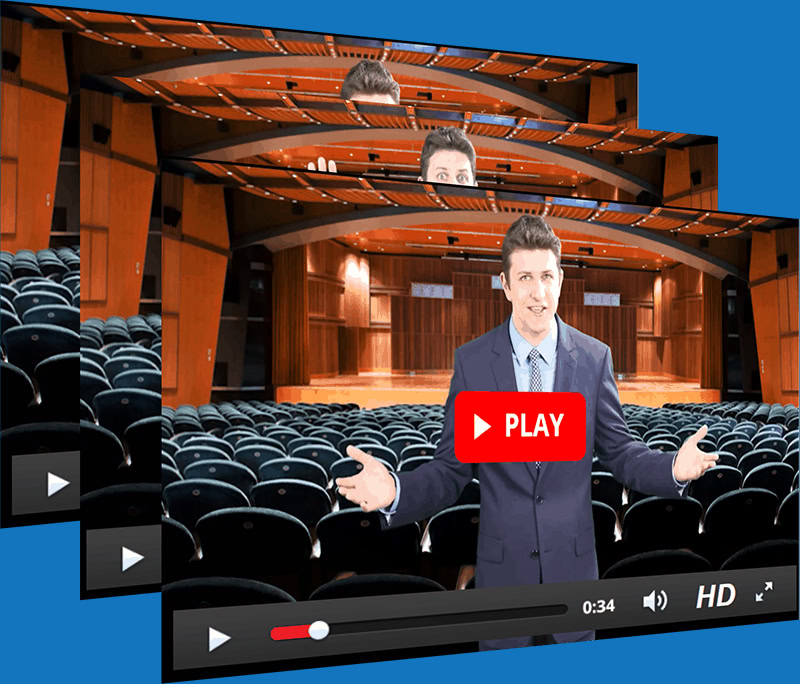 Free Access to Pres Vasilev's "Speaking Secrets":
3 FREE videos reveal how to craft your story, improve your stage presence, and structure your winning speech.
What Your Sales Team Will Learn

Your sales team will learn how to use strategic storytelling to:
Build trust with your customers faster
Uncover your customer needs easier
Convey the value of your offer with greater impact
Overcome buyer resistance smarter
Close more sales quicker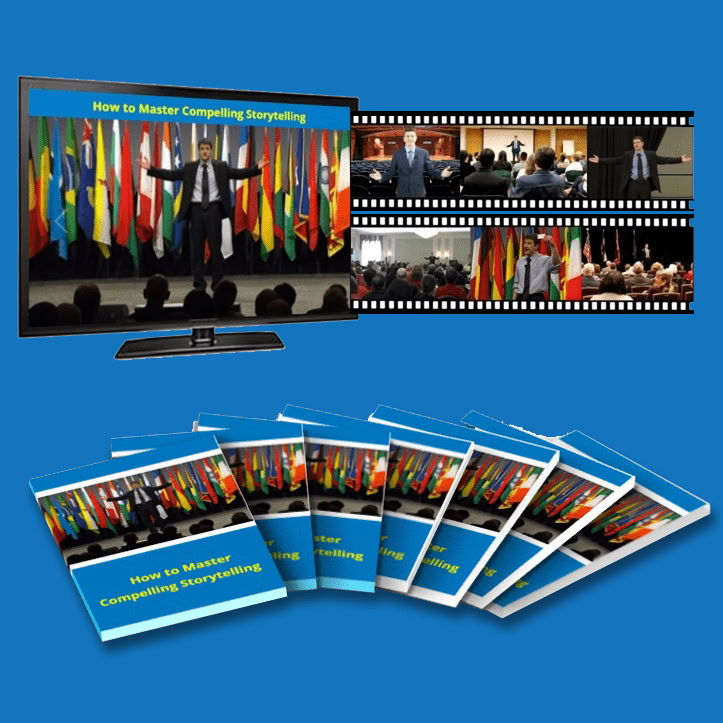 Master Compelling Storytelling!
Training Details

This practical, insightful, and highly interactive training program will:
Clarify your company story and show you how to use it as a sales tool.
Train your sales leaders to be effective storytelling coaches.
Facilitate a half-day or a full-day training workshop for your sales team.
Equip each program participant with the Successful Selling with Storytelling™ workbook.
Provide a 6-month Reinforcement Program to smoothly integrate strategic storytelling into your sales process.
Hire Pres and Empower Your Sales Team!
Meet Your Trainer

Pres Vasilev has more than ten years of sales experience in both door-to-door and inside sales. Pres has trained dozens of sales reps to build fruitful business relationships, negotiate effectively, and deliver compelling sales presentations.
For more than a decade, Pres has studied, researched, written, and spoken on self-improvement, speaking, storytelling, and selling.
Pres Vasilev is the 2013 World Champion of Public Speaking and the author of the popular training program "How to Master Compelling Storytelling."

Pres Vasilev combines his insights from the sales trenches with his storytelling expertise to equip your sales team with strategic storytelling skills so they can connect with your prospects better, convert them to customers faster, and close more sales.
Hire Pres and Empower Your Sales Team!
What Our Customers Are Saying
"Eighteen months ago, I was hired for a newly created sales position. I was doing great the first year, obtaining inside sales leads. Everyone was happy. But I knew I could do more and I wanted my numbers to increase.
I hired Pres Vasilev – not only a great speaking coach, but also a great storytelling coach. I used his storytelling techniques on the phone to connect with clients. I also used them in my inside sales weekly report to my manager. My manager loves this report. He forwards it on to the district and regional managers.
I increased my leads approximately 40% of existing accounts and 25% new accounts. If you're looking to increase your sales, hire Pres Vasilev."
Laura Cognato, Strategic Account Manager
"Pres Vasilev thinks strategically and in detail about persuasion, both in sales and in public speaking. In the mere month since I hired him as my coach, I have successfully added two new business clients to my roster.
If you want to be the best speaker in the world, hire Pres as your coach. If you want to rapidly expand your business, hire Pres as your coach."
Zain Nensey, CPA

"I have worked with Pres over the past 6 months and he has helped tremendously to guide me in developing effective content, presentation, and sales strategies/skills for a variety of different speaking engagements and audiences. I have gained much more confidence in these situations.
The results have been astounding. Our company – which is a new name in the field – has been able to reap the benefits of a first-class representation of the brand we are developing. At our grand kickoff event, we had a 32% close rate on site to enroll potential candidates into our preferred customer program, which was a huge success!
Pres understands how to carefully craft content to truly drive sales. These types of skills and critical feedback are invaluable for all kinds of industries, including mine, which Pres has no prior experience in.
Pres is tremendously skilled and effective in helping to cultivate content, presentation skills and confidence to achieve your goals. I recommend Pres without reservation!"
Ryan Clery, Equipment & Technology Specialist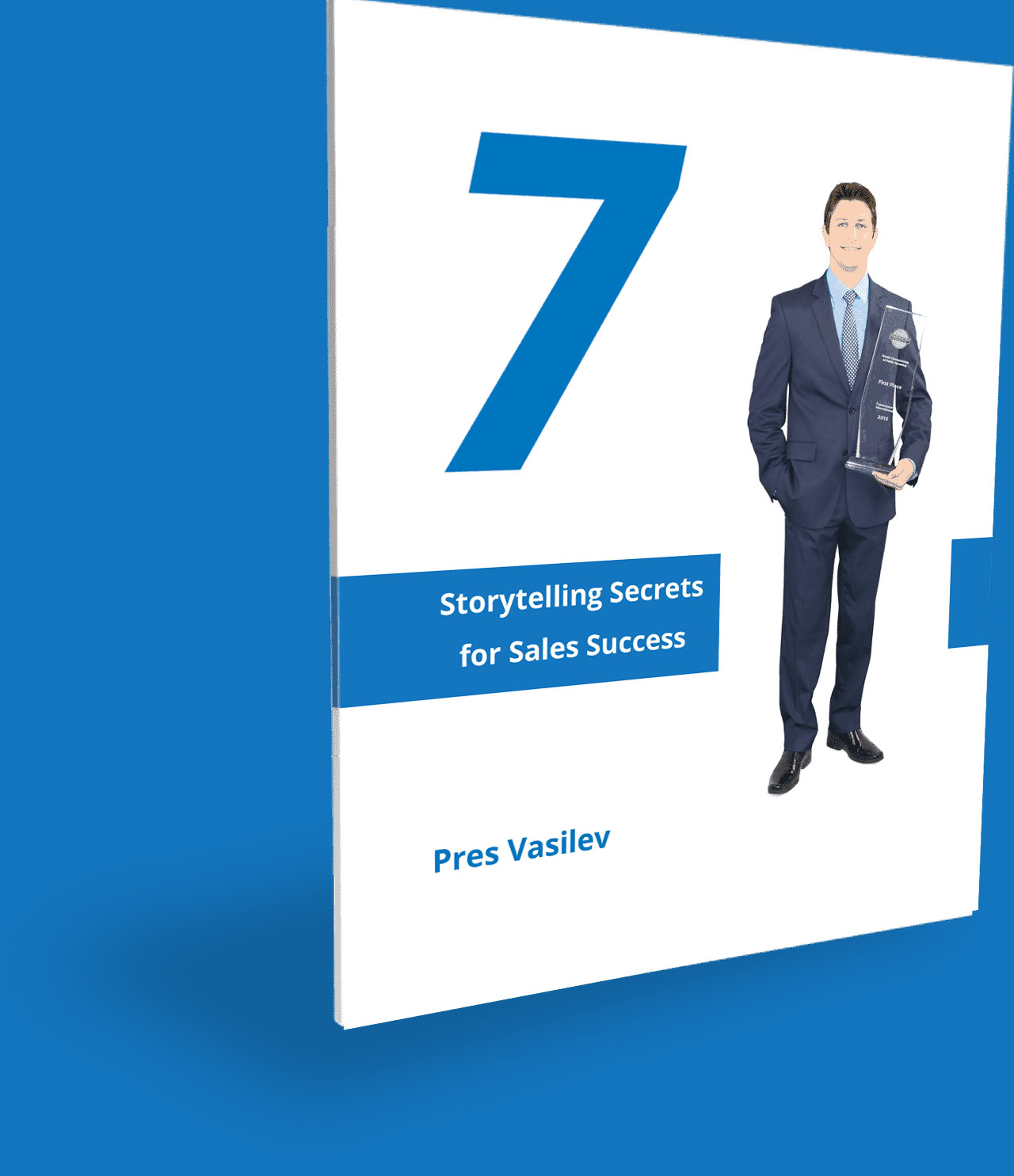 Free Download:

Pres Vasilev's "7 Storytelling Secrets for Sales Success"
Discover how to use stories to connect better, convince faster, and close more sales.